Scientific
Press Releases & Articles 31 - 35 of 79
Anglo-australian Telescope Turns 35





14th October 2009 - Views: 1236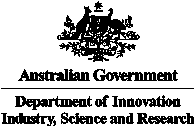 It was inaugurated on 16 October 1974 by HRH Prince Charles and the then Prime Minister, Gough Whitlam.
Professor Osamu Nureki Joins Atyr Pharma's Scientific Advisory Board





30th September 2009 - Views: 1449 aTyr Pharma announced today that Professor Osamu Nureki, Department of Basic Medical Sciences of the Institute of Medical Science at the University of Tokyo, has joined their scientific advisory board.
Melbournians Discover Deep Ancestry:genographic Project Swabs Former Afl Players 1





29th September 2009 - Views: 1024 Melbourne is one of the most diverse cities on the planet and now a cross-section of the Melbourne population will find out where they came from going back 2,000 generations.
Australia Hosts World's Largest Synchrotron Conference





25th September 2009 - Views: 1070
The Director of the Australian Synchrotron, Professor Robert Lamb, said "the benefits of the insights gained, and collaborations forged at this conference will cascade into new discoveries offering unique possibilities for industrial and applied research across many fields.
Planetary Boundaries: A Safe Operating Space For Humanity





24th September 2009 - Views: 1079

New approaches are needed to help humanity deal with climate change and other global environmental threats that lie ahead in the 21st century.